THE HARVEST CHOCOLATE COLLECTION
Vendor:

Regular price

Sale price

$10.00

Unit price

per

Vendor:

Regular price

Sale price

$10.00

Unit price

per

Vendor:

Regular price

Sale price

$10.00

Unit price

per

Vendor:

Regular price

Sale price

$10.00

Unit price

per

Vendor:

Regular price

Sale price

$10.00

Unit price

per

Vendor:

Regular price

Sale price

$10.00

Unit price

per

Vendor:

Regular price

Sale price

$10.00

Unit price

per

Vendor:

Regular price

Sale price

From $5.00

Unit price

per

Vendor:

Regular price

Sale price

From $5.00

Unit price

per

Vendor:

Regular price

Sale price

From $5.00

Unit price

per

Vendor:

Regular price

Sale price

From $5.00

Unit price

per
UPCOMING: CHOCOLATE + OLIVE OIL TASTING
When: Three Dates Available!
Where: Harvest Chocolate at The Vault: sweets marketplace: 110 W Chicago Ave. Tecumseh, MI.
Why This Event is a Must-Attend:
Dual Tasting: Explore ultra-premium olive oils and handcrafted bean-to-bar chocolates. Each tasting designed to stand on its own while also complementing and enhancing the other when enjoyed together.
The Olive Oil Side: Learn about the journey of olives - from harvesting to pressing and bottling. Taste distinct olive cultivars: Ayvalik (smooth, buttery), Trilye (fruity, refreshing), and Arbequina (peppery, robust).
The Chocolate Side: Dive into the world of chocolate making. Experience the bean-to-bar process and savor chocolates that embody the essence of ethically sourced, seasonal cocoa beans.
Meet the Makers: Hear from the founders of Zagoda Olive Oil and Harvest Chocolate, a dedicated husband-and-wife team bringing authentic Turkish olive oil from Zagoda and handcrafted bean to bar chocolate from Harvest to your palate.
Interactive and Educational: This event isn't just about tasting; it's a journey of education and appreciation for the craftsmanship behind each drop of olive oil and each piece of chocolate.
RESERVE YOUR SPOT
CORPORATE GIFTING: Looking for a corporate gift that your customers or employees will love? Harvest Chocolate's artisan, seasonal collections mean your gifts reflect the importance of your relationships. Reach out to us to deliver handcrafted, Michigan-made chocolate that's sure to be a hit!
CHOCOLATE TASTINGS + EVENTS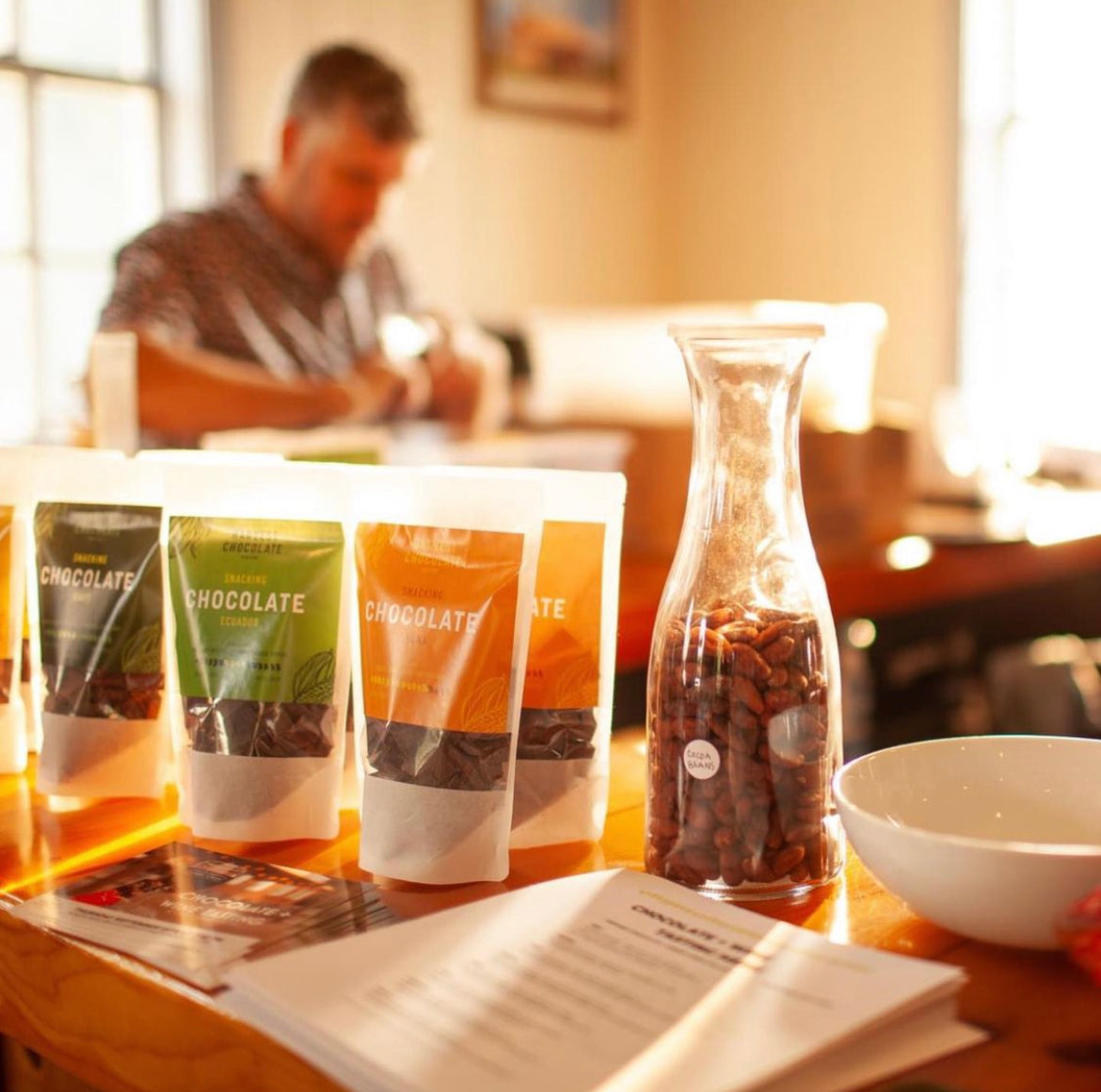 December 2nd, 12-3PM: Hot Cocoa Crawl at McPherson Local. Saline, MI

More details coming soon!
December 3rd at 3PM: Chocolate + Olive Oil Tasting with Zagoda Olive Oil. Tecumseh, MI

Details + Tickets available here!
December 9th at 11AM + 2PM: Holiday Chocolate Tasting + Tour at The Vault: sweets marketplace. Tecumseh, MI
December 14th 4-7pm: Holiday Pop-Up at Farver's. Adrian, MI

More details coming soon!
December 16th at 2PM: Holiday Pairing at Blom Meadworks. Ann Arbor, MI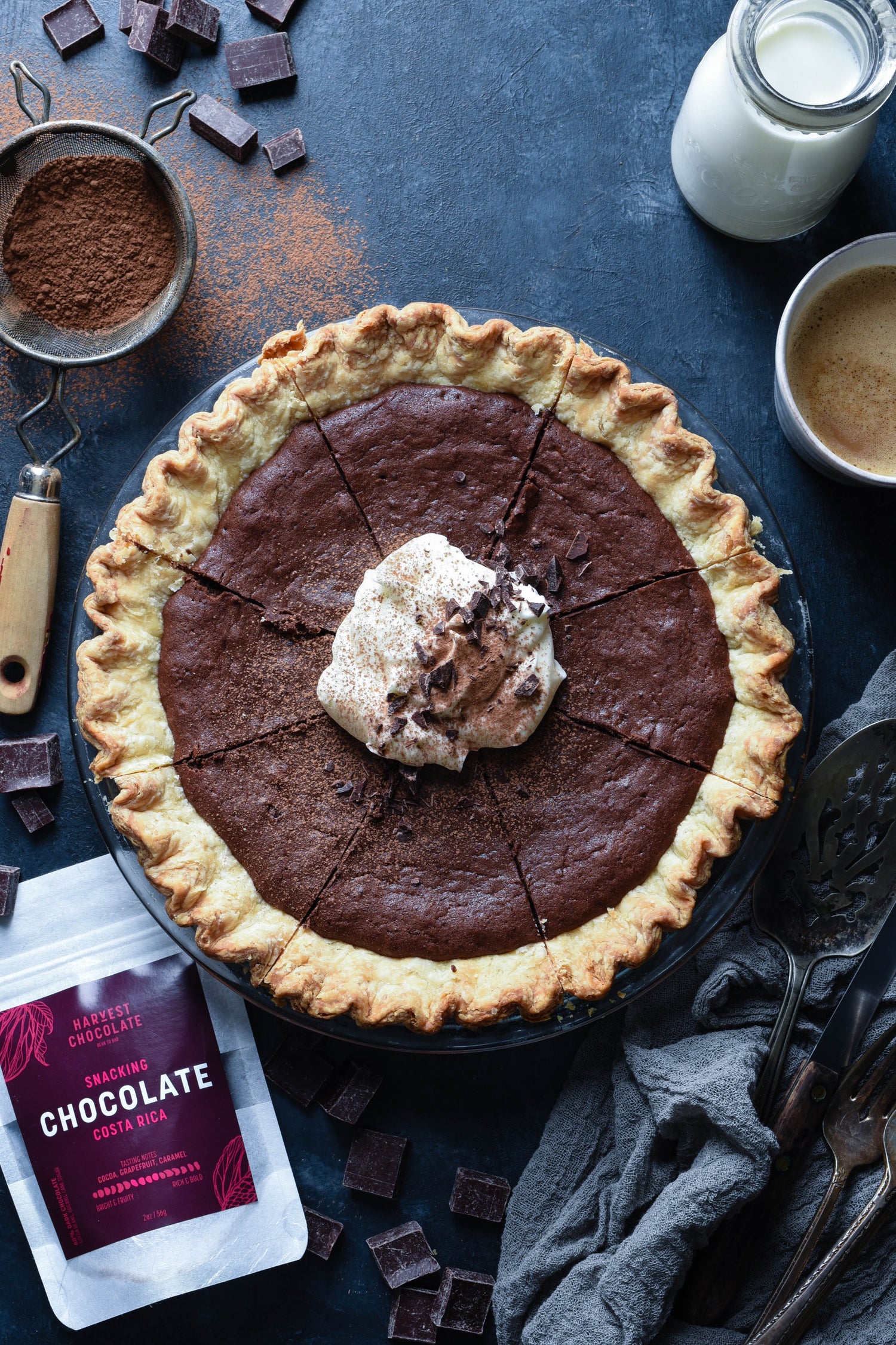 HARVEST CHOCOLATE RECIPES
The decadence of chocolate birthday cake; the smell of a fresh batch of brownies in the oven: baking in the kitchen is magical and it only multiplies when using the most flavorful ingredients -- starting first with Harvest Chocolate.
LET'S BAKE!